White House announces new commitments to the Fair Chance Business Pledge
<![CDATA[Earlier this year, the White House launched the Fair Chance Business Pledge. This move set out to encourage companies to ensure that all Americans have the opportunity to succeed, including individuals who have had contact with the criminal justice system. The pledge represents a call-to-action for all members of the private sector to improve their communities by eliminating barriers for those with a criminal record and creating a pathway for a second chance. Last week, a round of new signatories was announced. These signatories included Walmart – the largest private employer in the world with 2.2 million employees – and brought the total number of organizations pledging to 'ban the box' and help job candidates with criminal histories to return to the workforce to 185 employers. You can see the full list of recent signatories here. According to the Fact Sheet published by the White House, by signing the Fair Chance Business Pledge these companies are:
Voicing strong support for economic opportunity for all, including the approximately 70 million Americans who have some form of a criminal record.
Demonstrating an ongoing commitment to take action to reduce barriers to a fair shot at a second chance, including practices such as "banning the box" by delaying criminal history questions until later in the hiring process; ensuring that information regarding an applicant's criminal record is considered in proper context; and engaging in hiring practices that do not unnecessarily place jobs out of reach for those with criminal records.
The White House will continue to announce new rounds of signatories over the coming months. Companies and organizations interested in learning more about, or joining, the Fair Chance Business Pledge can do so
here
.]]>
You May Also Like
Check out these additional posts from Mind Your Business.
Many states have legalized Marijuana which has many employers wondering what to do when their applicant's drug test comes back positive. Pre-employment drug testing is a common practice for many employers that wish to mitigate risk and maintain a safe work environment for all employees. Most employers choose to run a 5-panel or 10-panel drug…
Read More

→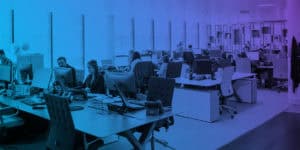 The Occupational Safety and Health Administration (OSHA) announced an emergency temporary standard (ETS) that states that companies with 100 or more employees would need to ensure that their employees are fully vaccinated by January 4th, 2021. If the employees are not vaccinated, they would need to test negative for COVID-19 weekly. This includes individuals who…
Read More

→
Motor Vehicle Records Reports are important searches for many different industries. They provide valuable information about an applicant's driving history. Driving infractions are not reportable in county or statewide criminal searches, so be sure to add a Motor Vehicle Search if you are hiring drivers for your company. The benefits are that you will be…
Read More

→
Quality and Precise Results, On Time!
Let us know about your screening needs to get a custom quote. We work with businesses big and small as well as the government. Which means we have a package of solutions for your organization as well.