USCIS publishes revised Form I-9
<![CDATA[The U.S. Citizenship and Immigration Services (USCIS) has published a revised version of the Form I-9, Employment Eligibility Verification. Employers will be able to use this revised version or continue using the Form I-9 with a revision date of 11/14/16 N through September 17, 2017. On September 18, employers must use the revised form with a revision date of 07/17/17 N. Employers must continue following existing storage and retention rules for any previously completed Form I-9. The revisions were minor:
USCIS changed the name of the Office of Special Counsel for Immigration-Related Unfair Employment Practices to its new name, Immigrant and Employee Rights Section
USCIS removed "the end of" from the phrase "the first day of employment"
What is Form I-9?
Form I-9 is used for verifying the identity and employment authorization of individuals hired for employment in the United States. All U.S. employers must ensure proper completion of Form I-9 for each individual they hire for employment in the United States.
What's the difference between form I-9 and E-Verify?
The two actually work hand in hand to validate that an employee is authorized to work in this country. Although similar in their role, there are a few key differences:
I-9 is used by an employer to document an employee's identity and eligibility to be employed legally in the U.S. E-Verify compares information from an employee's I-9 with government data (such as Social Security) to confirm the individual is eligible for employment.
I-9 is mandatory for all employers, while E-Verify is voluntary for most employers (and only mandatory for employers with federal contracts containing a FAR E-Verify clause).
I-9 is filled out by both the employee and the employer, E-Verify is only handled by the employer.
]]>
You May Also Like
Check out these additional posts from Mind Your Business.
Many states have legalized Marijuana which has many employers wondering what to do when their applicant's drug test comes back positive. Pre-employment drug testing is a common practice for many employers that wish to mitigate risk and maintain a safe work environment for all employees. Most employers choose to run a 5-panel or 10-panel drug…
Read More

→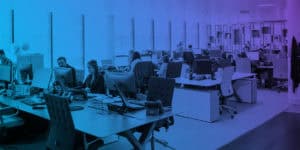 The Occupational Safety and Health Administration (OSHA) announced an emergency temporary standard (ETS) that states that companies with 100 or more employees would need to ensure that their employees are fully vaccinated by January 4th, 2021. If the employees are not vaccinated, they would need to test negative for COVID-19 weekly. This includes individuals who…
Read More

→
Motor Vehicle Records Reports are important searches for many different industries. They provide valuable information about an applicant's driving history. Driving infractions are not reportable in county or statewide criminal searches, so be sure to add a Motor Vehicle Search if you are hiring drivers for your company. The benefits are that you will be…
Read More

→
Quality and Precise Results, On Time!
Let us know about your screening needs to get a custom quote. We work with businesses big and small as well as the government. Which means we have a package of solutions for your organization as well.