The MYB Difference in a Background Check
With a background check a necessary part of today's hiring process, there are an array of options for completing pre-employment screening. With over two decades of experience, MYB is able to combine experience and accreditation with personalized service and care.
"A comprehensive background check empowers employers with the appropriate tools to make an informed hiring decision," says Founder/CEO Karen Caruso. "It's doing your due diligence and knowing the person you select is capable to do the job you're hiring for. Our goal is to prepare the employee and the company for success."
Exceptional Customer Service
NAPBS accredited and an Inc. 5000 Honoree, MYB goes above and beyond with service that exceeds industry standards. "Because we are more hands-on, we can get reports back faster than our competitors," says Karen. "At MYB, we have a 'three ring rule.' Someone is guaranteed to pick up the phone after three rings. This means clients who call to check the status of their reports or ask questions about the background screening process get their questions answered quickly."
Lauren Harrell, Director of Operations, reveals that everyday details make an extraordinary difference. "We strive to return all e-mails and phone calls within two business hours maximum," says Lauren. "We're also open from 8 a.m. to 7 p.m. because we work with a lot of companies in different time zones, and we want to be here for our clients."
Care that Extends Beyond the Report
When clients receive a completed background check, the relationship with MYB continues with representatives following up to ensure they understand the report. "Whereas other companies just deliver a background check, we go through the details and explain what each piece of the report means," says Lauren. With every employee at MYB holding either the basic or advanced NAPBS accreditation, clients have the guarantee of dealing with representatives who are knowledgeable in all current laws, policies, and regulations.
"MYB is not just a business," says Karen. "It's a conviction to provide employers with the necessary comprehensive tools for completing the hiring process."
You May Also Like
Check out these additional posts from Mind Your Business.
Many states have legalized Marijuana which has many employers wondering what to do when their applicant's drug test comes back positive. Pre-employment drug testing is a common practice for many employers that wish to mitigate risk and maintain a safe work environment for all employees. Most employers choose to run a 5-panel or 10-panel drug…
Read More

→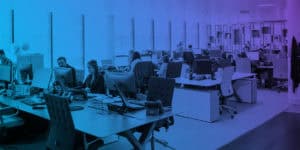 The Occupational Safety and Health Administration (OSHA) announced an emergency temporary standard (ETS) that states that companies with 100 or more employees would need to ensure that their employees are fully vaccinated by January 4th, 2021. If the employees are not vaccinated, they would need to test negative for COVID-19 weekly. This includes individuals who…
Read More

→
Motor Vehicle Records Reports are important searches for many different industries. They provide valuable information about an applicant's driving history. Driving infractions are not reportable in county or statewide criminal searches, so be sure to add a Motor Vehicle Search if you are hiring drivers for your company. The benefits are that you will be…
Read More

→
Quality and Precise Results, On Time!
Let us know about your screening needs to get a custom quote. We work with businesses big and small as well as the government. Which means we have a package of solutions for your organization as well.