Students targeted in employment scams
<![CDATA[Connecticut Better Business Bureau has a warning for college graduates looking for a job: Be very careful.
According to the Better Business Bureau website, criminals are targeting students with fake job offers through emails sent to their college accounts. The employment scam criminals deceive their victims using four basic tactics:
Asking for bank account information for direct deposit of a paycheck
Requiring a Social Security Number and other personal information to "process paperwork"
Requesting payment up front, supposedly for a background check, drug testing, and training
Payment is only accepted through non-traceable methods
In recognition of this recent scam, Connecticut Better Business Bureau has some tips to protect yourself:
Make sure it is real
– Research the company's telephone number and website, rather than using information provided in the email or over the telephone. Contact the business directly to verify whether there is an opening.
Ask for specifics
– If a caller contacts you, ask the name of the company he or she claims to represent.
Watch out for on-the-spot job offers
– Businesses don't hire by telephone without a face to face meeting. Only provide personal information once you receive a written letter of employment.
Be realistic
– When a job ad says no experience is required, offers easy hours and generous income with minimal work, that's a major red flag. As the adage goes – if it sounds too good to be true, it probably is. Students and job seekers can find additional resources and tips at
bbb.org
.]]>
You May Also Like
Check out these additional posts from Mind Your Business.
Many states have legalized Marijuana which has many employers wondering what to do when their applicant's drug test comes back positive. Pre-employment drug testing is a common practice for many employers that wish to mitigate risk and maintain a safe work environment for all employees. Most employers choose to run a 5-panel or 10-panel drug…
Read More

→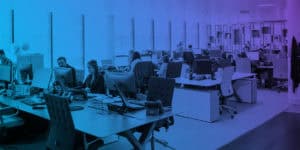 The Occupational Safety and Health Administration (OSHA) announced an emergency temporary standard (ETS) that states that companies with 100 or more employees would need to ensure that their employees are fully vaccinated by January 4th, 2021. If the employees are not vaccinated, they would need to test negative for COVID-19 weekly. This includes individuals who…
Read More

→
Motor Vehicle Records Reports are important searches for many different industries. They provide valuable information about an applicant's driving history. Driving infractions are not reportable in county or statewide criminal searches, so be sure to add a Motor Vehicle Search if you are hiring drivers for your company. The benefits are that you will be…
Read More

→
Quality and Precise Results, On Time!
Let us know about your screening needs to get a custom quote. We work with businesses big and small as well as the government. Which means we have a package of solutions for your organization as well.