Philadelphia prohibits use of credit checks in employment screening
<![CDATA[As of July 7, 2016,  employers in Philadelphia are no longer permitted to obtain or use credit information regarding employees and job applicants. Signed into law by Philadelphia Mayor Jim Kenney, the new legislation makes it illegal for employers to use the credit information of Philadelphia job applicants or employees – unless covered by an exception – for employment decisions such as hiring, firing, or promotion. Exceptions include:
to any law enforcement agency or financial institution;
to the City of Philadelphia with respect to efforts to obtain information regarding taxes or other debts owed to the City;
if such information must be obtained pursuant to state or federal law;
if the job requires an employee to be bonded under City, state, or federal law;
if the job is supervisory or managerial in nature and involves setting the direction or policies of a business or a division, unit or similar part of a business;
if the job involves significant financial responsibility to the employer, including the authority to make payments, transfer money, collect debts, or
enter into contracts, but not including handling transactions in a retail setting;
if the job requires access to financial information pertaining to customers, other employees, or the employer, other than information customarily provided in a retail transaction; or
if the job requires access to confidential or proprietary information that derives substantial value from secrecy.
If you have any questions as to if or how this new legislation might affect you,
our team will be happy to help
.]]>
You May Also Like
Check out these additional posts from Mind Your Business.
Many states have legalized Marijuana which has many employers wondering what to do when their applicant's drug test comes back positive. Pre-employment drug testing is a common practice for many employers that wish to mitigate risk and maintain a safe work environment for all employees. Most employers choose to run a 5-panel or 10-panel drug…
Read More

→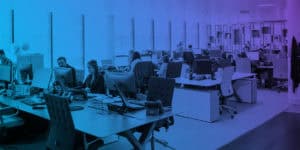 The Occupational Safety and Health Administration (OSHA) announced an emergency temporary standard (ETS) that states that companies with 100 or more employees would need to ensure that their employees are fully vaccinated by January 4th, 2021. If the employees are not vaccinated, they would need to test negative for COVID-19 weekly. This includes individuals who…
Read More

→
Motor Vehicle Records Reports are important searches for many different industries. They provide valuable information about an applicant's driving history. Driving infractions are not reportable in county or statewide criminal searches, so be sure to add a Motor Vehicle Search if you are hiring drivers for your company. The benefits are that you will be…
Read More

→
Quality and Precise Results, On Time!
Let us know about your screening needs to get a custom quote. We work with businesses big and small as well as the government. Which means we have a package of solutions for your organization as well.