MYB Welcomes John Lawrence as Chief Revenue Officer
This month, MYB added background screening industry sales and marketing veteran, John Lawrence to our team. John will serve as Chief Revenue Officer and manage all sales, marketing, and customer success personnel and activities.
John was most recently Chief Marketing Officer for investigative data provider, Tracers Information Specialists, Inc. (Tracers). Prior to that, John served for over a decade at General Information Services, Inc. (GIS) as Vice President of Marketing & Business Development, where he contributed to the organization's dramatic growth that eventually led to GIS's merger with HireRight.
"Many of the industry's largest background screening providers are now being led by executives that know very little about the screening industry and how to best serve their customers' needs," said John. "Unlike those consumer reporting agencies, MYB gets it, and they are primed to deliver the quality and accuracy that employers deserve."
A Background Screening Company that Cares
John brings a fresh passion to his new role at MYB. His goal is to ensure every business has the opportunity to experience the professionalism that MYB brings to the industry. "Businesses need to choose a background screening company that cares about their clients' best interests. For example, a lot of companies are unaware of legal compliance obligations because they've not been educated by their previous background screener," says John. "When it comes to the FCRA, the EEOC, and a myriad of other regulations, not knowing is not an excuse. MYB likes to keep our customer informed because it's the right thing to do."
Exciting Changes Coming to MYB
With a new year ahead on the horizon, John is optimistic about the future. "MYB is innovating and working hard to ensure we're different than we were before the pandemic," says John. "We're adding new services, making advancements to our online platform, and adding helpful features. Now is the time to innovate and expand so we can adapt and prepare for the year ahead."
Get a Background Check from MYB
Meet John and put the experts at MYB to work for you; email sales@mybinc.com for a free quote.
You May Also Like
Check out these additional posts from Mind Your Business.
Many states have legalized Marijuana which has many employers wondering what to do when their applicant's drug test comes back positive. Pre-employment drug testing is a common practice for many employers that wish to mitigate risk and maintain a safe work environment for all employees. Most employers choose to run a 5-panel or 10-panel drug…
Read More

→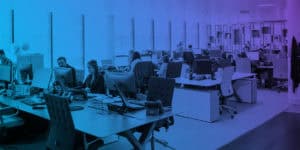 The Occupational Safety and Health Administration (OSHA) announced an emergency temporary standard (ETS) that states that companies with 100 or more employees would need to ensure that their employees are fully vaccinated by January 4th, 2021. If the employees are not vaccinated, they would need to test negative for COVID-19 weekly. This includes individuals who…
Read More

→
Motor Vehicle Records Reports are important searches for many different industries. They provide valuable information about an applicant's driving history. Driving infractions are not reportable in county or statewide criminal searches, so be sure to add a Motor Vehicle Search if you are hiring drivers for your company. The benefits are that you will be…
Read More

→
Quality and Precise Results, On Time!
Let us know about your screening needs to get a custom quote. We work with businesses big and small as well as the government. Which means we have a package of solutions for your organization as well.