Want to increase employee productivity? Be a more positive manager.
<![CDATA[According to Emma Seppala, Ph.D., Science Director of Stanford University's Center for Compassion and Altruism Research and Education, there's a surefire way to improve employee productivity that many workplaces don't adhere to: positive and virtuous practices.
Citing a study from the University of Michigan, Seppala claims that the best way to improve employee performance has nothing to do with perks and benefits, as one might imagine, but it's actually "positive and virtuous practices" that help employees excel in a number of domains.
So what ARE positive and virtuous practices?
They might include:
Caring for, being interested in, and maintaining responsibility for colleagues as friends
Providing support for one another, including offering kindness and compassion when others are struggling
Avoiding blame and forgive mistakes
Inspiring one another at work
Emphasizing the meaningfulness of the work
Treating one another with respect, gratitude, trust & integrity
Such practices increase positive emotions, buffer against negatives events, and attract and bolster employees. Summarizing the findings, Kim Cameron – the study's lead researcher – explains that: "When organizations institute positive, virtuous practices they achieve significantly higher levels of organizational effectiveness — including financial performance, customer satisfaction, and productivity … The more the virtuousness, the higher the performance in profitability, productivity, customer satisfaction, and employee engagement."
 How can you implement positive and virtuous practices at your organization?
There are four recommendations for organizations to add positive practices to their company:
Leadership – Support from the top
Culture – Implement changes designed to be positive and virtuous
Small Steps – Spend time each day doing things like gratitude journals or other positive habits
Retreats and Workshops – Strategic focus on positive practices and leadership
The happiness advantage
Ultimately, employees simply want to be happy. And being happy is what provides the real advantage to your work place. A
recent study
at the University of Warwick found that happiness led to a 12% spike in productivity, while unhappy workers proved 10% less productive. As the research team put it, "We find that human happiness has large and positive causal effects on productivity. Positive emotions appear to invigorate human beings." It's this positive cycle that can take any business to new heights. While more research still needs to be completed on the practices to get us there, and how these can be tailored to every organization, the foundations are there for you to start building today.]]>
You May Also Like
Check out these additional posts from Mind Your Business.
Many states have legalized Marijuana which has many employers wondering what to do when their applicant's drug test comes back positive. Pre-employment drug testing is a common practice for many employers that wish to mitigate risk and maintain a safe work environment for all employees. Most employers choose to run a 5-panel or 10-panel drug…
Read More

→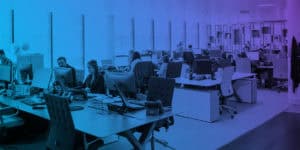 The Occupational Safety and Health Administration (OSHA) announced an emergency temporary standard (ETS) that states that companies with 100 or more employees would need to ensure that their employees are fully vaccinated by January 4th, 2021. If the employees are not vaccinated, they would need to test negative for COVID-19 weekly. This includes individuals who…
Read More

→
Motor Vehicle Records Reports are important searches for many different industries. They provide valuable information about an applicant's driving history. Driving infractions are not reportable in county or statewide criminal searches, so be sure to add a Motor Vehicle Search if you are hiring drivers for your company. The benefits are that you will be…
Read More

→
Quality and Precise Results, On Time!
Let us know about your screening needs to get a custom quote. We work with businesses big and small as well as the government. Which means we have a package of solutions for your organization as well.