Get Results with Customized Background Checks
With the rise of online background checks available to anyone at anytime, it may appear that background checks are a one-size-fits-all tool. However, the background check industry is filled with new laws, state nuances, and evolving requirements. Relying upon a one-click online option usually generates more questions than answers. That's why MYB, Inc.'s main focus is communicating with customers to ensure they get exactly what they need.
The Difference in Professional Background Checks
"MYB, Inc. is accredited by the NAPBS. To be accredited, we have to follow specific guidelines set forth by the NAPBS," says Lauren Harrell, Director of Operations. "This means we take the time to educate our clients. We provide insight about what each search means. We discourage them from running unnecessary checks and encourage them to add on ones that may be especially helpful."

For example, an office assistant may not require the same background check as a CEO. Likewise, a position caring for children in a daycare setting would not benefit from the same check as delivery driver.
Putting the Customer First with Customized Background Checks
"We always ask clients exactly what they're looking for and how the background check will be used, so we can tailor our services based upon their needs," says Lauren. "We never add on more searches than necessary, because it can be cost-worthy and confusing."

When the background report is returned to the client, MYB's services don't end. The customer's representative is there to follow up, answer any questions, and explain any unknown terms.

"Sometimes people don't understand background reports because it's a compilation of a lot of information," says Taylor Bryant, Production and Quality Control Manager. "Sometimes there are questions about legal terms or perhaps a client isn't especially tech savvy. For our clients, we are here 100% of the time. We are always client-orientated so they can get what they need."
You May Also Like
Check out these additional posts from Mind Your Business.
Many states have legalized Marijuana which has many employers wondering what to do when their applicant's drug test comes back positive. Pre-employment drug testing is a common practice for many employers that wish to mitigate risk and maintain a safe work environment for all employees. Most employers choose to run a 5-panel or 10-panel drug…
Read More

→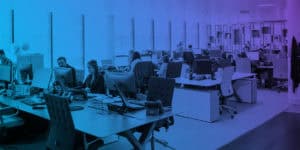 The Occupational Safety and Health Administration (OSHA) announced an emergency temporary standard (ETS) that states that companies with 100 or more employees would need to ensure that their employees are fully vaccinated by January 4th, 2021. If the employees are not vaccinated, they would need to test negative for COVID-19 weekly. This includes individuals who…
Read More

→
Motor Vehicle Records Reports are important searches for many different industries. They provide valuable information about an applicant's driving history. Driving infractions are not reportable in county or statewide criminal searches, so be sure to add a Motor Vehicle Search if you are hiring drivers for your company. The benefits are that you will be…
Read More

→
Quality and Precise Results, On Time!
Let us know about your screening needs to get a custom quote. We work with businesses big and small as well as the government. Which means we have a package of solutions for your organization as well.