FYI FRIDAYS: What is Live Scan Fingerprinting?
We were able to announce earlier this month that we would offer live scan digital fingerprinting to our clients. MYB has been conducting name-based background checks for over 24 years. This natural progression will allow us to service more industries and provide an all-inclusive background screening service.
It is important to dive further into the question, what is live scan fingerprinting?
Traditionally, fingerprinting has been done with an ink pad at a Sheriff's office. This type of fingerprinting is still available, but it is an outdated method of collecting the same information provided by live scan digital fingerprinting. With traditional ink card fingerprinting, it can be difficult to read a certain portion of the population's fingerprints. This can be due to age or the line of work the individual is in. Digital fingerprinting provides a more accurate and clear reading of an individual's fingerprints.
Live scan fingerprinting is not the same thing as a name-based background check.
To start, digital fingerprinting is not available to every business.
There are specific industries that require this type of criminal background check. These include:
Attorneys,
Banks,
Child Care,
Construction,
Human Services,
Insurance Agencies,
Real Estate and more.
Check with your state to see if fingerprinting is the required form of background screening. If live scan fingerprinting is not, then name-based background screening will be the method you will screen applicants with. Name based criminal background screening uses the individual's name, date of birth and Social Security number to identify the individual. When a digital fingerprint is conducted, the prints are run through FBI and state databases to create a criminal profile of the individual. The Professional Background Screening Association (PBSA) agrees that fingerprint-based background checks are a useful tool for background screening but do not provide a comprehensive history. MYB has the unique position of being able to provide both name based and fingerprint based background screening for your organization.
MYB has digital fingerprinting locations across the United States. These appointments can be set up with our customer success team.
You May Also Like
Check out these additional posts from Mind Your Business.
Many states have legalized Marijuana which has many employers wondering what to do when their applicant's drug test comes back positive. Pre-employment drug testing is a common practice for many employers that wish to mitigate risk and maintain a safe work environment for all employees. Most employers choose to run a 5-panel or 10-panel drug…
Read More

→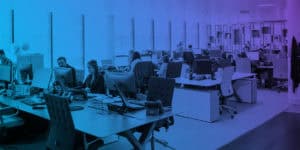 The Occupational Safety and Health Administration (OSHA) announced an emergency temporary standard (ETS) that states that companies with 100 or more employees would need to ensure that their employees are fully vaccinated by January 4th, 2021. If the employees are not vaccinated, they would need to test negative for COVID-19 weekly. This includes individuals who…
Read More

→
Motor Vehicle Records Reports are important searches for many different industries. They provide valuable information about an applicant's driving history. Driving infractions are not reportable in county or statewide criminal searches, so be sure to add a Motor Vehicle Search if you are hiring drivers for your company. The benefits are that you will be…
Read More

→
Quality and Precise Results, On Time!
Let us know about your screening needs to get a custom quote. We work with businesses big and small as well as the government. Which means we have a package of solutions for your organization as well.