When should employers re-screen employees?
<![CDATA[HireRight's EMEA Employee Screening Benchmark Report revealed that a hefty 71% of companies don't re-screen when an employee is promoted or changes roles. Only performing a background check when an employee begins a contract – and never again – can put employers at significant risk. It's possible that someone may have passed a background check when they were first hired, but in the time they have been employed their circumstances may have changed. Many industries also have regulations that require an updated background check of sorts for employees. For example, for someone working in the transportation industry, a Motor Vehicle Record check might be required on an annual basis. It's not really a question of should employers re-screen employers, but when? Our thoughts:
Re-screen when employees are promoted or change roles
Re-screen temporary workers each time they are contracted for work
At no point should a staff member be "above the process". Senior staff, the executive team, and board members should all be screened and re-screened.
An annual re-screen is considered a best practice. Following an employee's primary background check, re-screening once every 12 months will help employers reduce risk.
Ultimately, a regular re-screening process helps to create a more productive workplace, fostering trust, reliability, and safety among staff. Consider how you can integrate re-screening into your employment screening program. And if you're looking for answers,
we're here to help
.]]>
You May Also Like
Check out these additional posts from Mind Your Business.
Many states have legalized Marijuana which has many employers wondering what to do when their applicant's drug test comes back positive. Pre-employment drug testing is a common practice for many employers that wish to mitigate risk and maintain a safe work environment for all employees. Most employers choose to run a 5-panel or 10-panel drug…
Read More

→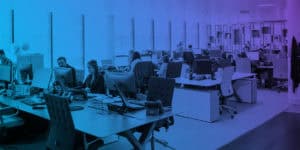 The Occupational Safety and Health Administration (OSHA) announced an emergency temporary standard (ETS) that states that companies with 100 or more employees would need to ensure that their employees are fully vaccinated by January 4th, 2021. If the employees are not vaccinated, they would need to test negative for COVID-19 weekly. This includes individuals who…
Read More

→
Motor Vehicle Records Reports are important searches for many different industries. They provide valuable information about an applicant's driving history. Driving infractions are not reportable in county or statewide criminal searches, so be sure to add a Motor Vehicle Search if you are hiring drivers for your company. The benefits are that you will be…
Read More

→
Quality and Precise Results, On Time!
Let us know about your screening needs to get a custom quote. We work with businesses big and small as well as the government. Which means we have a package of solutions for your organization as well.