Business Myth Busters: Should you re-screen current employees?
One and done! For many companies, the initial onboarding background check conducted during the hiring process is the only screening their employees receive. A comprehensive background check is a wise investment before hiring new employees, but should you re-screen your employees later in their careers, too? Discover the truth behind re-screening services.
Myth: The initial background screening tells me everything I need to know about my employees.
Truth: A thorough and complete background check completed by a PBSA-accredited company like MYB, Inc. is a great way to determine the best hire for a position. However, unless you re-screen your employee, you will not be alerted to new criminal records, a change in sex offender status, or an invalid driver's license.
Myth: It's too expensive to re-screen employees.
Truth: Typically, re-screening services cost less than your initial background check. "A re-screen usually focuses only on the current location and recent history. It's an affordable tool that most companies should utilize more," says Lauren Harrell, Director of Operations at MYB, Inc.
Myth: It takes too long to re-screen employees.
Truth: Since a re-screen focuses on the employee's current location, most basic re-screen reports can be completed in 48-72 hours.
Myth: There's no benefit to re-screening employees.
Truth: Re-screening your employees is a quick and easy way to check for any red flags that could result in liability for your company. Re-screen reports alert you to new DUI charges, accidents, or a lapse in a driver's license. "It's a little bit of cost, but it's a big return because you're protecting your customers and the integrity of your business. It ensures ongoing safety for clients and your employees," says Lauren.
Myth: It's too much work to coordinate ongoing re-screening services.
Truth: Implementing two keys tools can make re-screening your employees simple and easy. First, ensure your employees sign a continued employment authorization form that allows background checks during their tenure. This provides permission to re-screen legally and without additional paperwork. Then hire the professionals at MYB, Inc. to automatically re-run background checks. "Our Guardian Monitoring Search can provide customized re-screening services affordably and on a schedule that works for your company," says Lauren.
Get started today with re-screening services at MYB, Inc. Contact us at 888-758-3776.
You May Also Like
Check out these additional posts from Mind Your Business.
Many states have legalized Marijuana which has many employers wondering what to do when their applicant's drug test comes back positive. Pre-employment drug testing is a common practice for many employers that wish to mitigate risk and maintain a safe work environment for all employees. Most employers choose to run a 5-panel or 10-panel drug…
Read More

→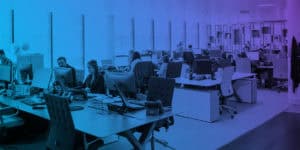 The Occupational Safety and Health Administration (OSHA) announced an emergency temporary standard (ETS) that states that companies with 100 or more employees would need to ensure that their employees are fully vaccinated by January 4th, 2021. If the employees are not vaccinated, they would need to test negative for COVID-19 weekly. This includes individuals who…
Read More

→
Motor Vehicle Records Reports are important searches for many different industries. They provide valuable information about an applicant's driving history. Driving infractions are not reportable in county or statewide criminal searches, so be sure to add a Motor Vehicle Search if you are hiring drivers for your company. The benefits are that you will be…
Read More

→
Quality and Precise Results, On Time!
Let us know about your screening needs to get a custom quote. We work with businesses big and small as well as the government. Which means we have a package of solutions for your organization as well.