Georgia leading the way with E-Verify
<![CDATA[Fourteen percent of the approximately 600,000 employers using E-Verify are located in Georgia, which ranks highest of all 50 states in the program's usage, according to new statistics released by U.S. Citizenship and Immigration Services (USCIS).
While the program is voluntary for most employers on the federal level, many states (including Georgia) have enacted state laws requiring employers to enroll. After Georgia (82,046), the states with the highest numbers of E-Verify users as of March 31 are Arizona (49,876), California (48,700), Alabama (43,944), Missouri (41,159) and South Carolina (40,211). Alabama, Arizona and South Carolina mandate E-Verify for all employers. The states with the least amount of users are Vermont (431), Wyoming (768), North Dakota (841), South Dakota (845) and Maine (866). Notably, California actually prohibits cities and counties from imposing any kind of E-Verify mandate. The E-Verify program compares information obtained from an employee's Form I-9 to data from U.S. Department of Homeland Security and Social Security Administration records to confirm employment eligibility. If you have any questions around how E-Verify should be implemented in your state and how it may affect your business, 
contact our team today
.]]>
You May Also Like
Check out these additional posts from Mind Your Business.
Many states have legalized Marijuana which has many employers wondering what to do when their applicant's drug test comes back positive. Pre-employment drug testing is a common practice for many employers that wish to mitigate risk and maintain a safe work environment for all employees. Most employers choose to run a 5-panel or 10-panel drug…
Read More

→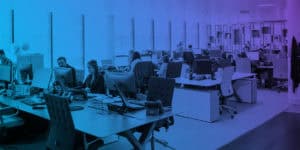 The Occupational Safety and Health Administration (OSHA) announced an emergency temporary standard (ETS) that states that companies with 100 or more employees would need to ensure that their employees are fully vaccinated by January 4th, 2021. If the employees are not vaccinated, they would need to test negative for COVID-19 weekly. This includes individuals who…
Read More

→
Motor Vehicle Records Reports are important searches for many different industries. They provide valuable information about an applicant's driving history. Driving infractions are not reportable in county or statewide criminal searches, so be sure to add a Motor Vehicle Search if you are hiring drivers for your company. The benefits are that you will be…
Read More

→
Quality and Precise Results, On Time!
Let us know about your screening needs to get a custom quote. We work with businesses big and small as well as the government. Which means we have a package of solutions for your organization as well.