Employers explore repaying student loans
A new survey from American Student Assistance, a private nonprofit dedicated to eliminating finance as a barrier to education and the dreams education enables, has revealed the burden of student debt on young employees.
The survey of 500 employees ages 22 to 33 highlights how student loan debt negatively impacts their focus, well-being and retirement planning and delays their pursuit of additional education. More than half of the workers surveyed say they worry about student loan debt most or all of the time and nearly 65 percent say they may seek a second job to help pay off their loans. Additionally, the survey found:
86 percent of employees would commit to a company for five years if the employer helped pay back their student loans
92 percent would take advantage of a match for student loan repayments similar to a 401(k) match
79 percent would take advantage of free access to a student loan debt counselor
"When employees are distracted, they aren't being productive," said Peter Marcia, founder and CEO of YouDecide, a voluntary benefits outsourcing company in Atlanta.
As a result, more and more employers are considering offering employees a new perk: paying off their student loans. Currently, only 4% of employers offer this sort of benefit. With little student loan relief expected from elsewhere, we can expect the number of employers helping out to start increasing dramatically as a new tactic to acquire talent.
You May Also Like
Check out these additional posts from Mind Your Business.
Many states have legalized Marijuana which has many employers wondering what to do when their applicant's drug test comes back positive. Pre-employment drug testing is a common practice for many employers that wish to mitigate risk and maintain a safe work environment for all employees. Most employers choose to run a 5-panel or 10-panel drug…
Read More

→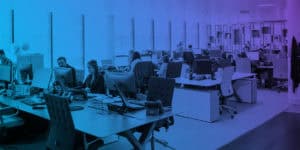 The Occupational Safety and Health Administration (OSHA) announced an emergency temporary standard (ETS) that states that companies with 100 or more employees would need to ensure that their employees are fully vaccinated by January 4th, 2021. If the employees are not vaccinated, they would need to test negative for COVID-19 weekly. This includes individuals who…
Read More

→
Motor Vehicle Records Reports are important searches for many different industries. They provide valuable information about an applicant's driving history. Driving infractions are not reportable in county or statewide criminal searches, so be sure to add a Motor Vehicle Search if you are hiring drivers for your company. The benefits are that you will be…
Read More

→
Quality and Precise Results, On Time!
Let us know about your screening needs to get a custom quote. We work with businesses big and small as well as the government. Which means we have a package of solutions for your organization as well.